"If we talk about this, Clarice, I have to have
something on acount. Quid pro qou. I tell you things, and you tell me."
What no complaints? Cat got your tongue? Maybe you'd rather R.S.V.P. later!
Hear Dr. Hannibal Lecter's voice!
Enter content here
The Critic's Corner a.k.a. old fuddy dudy ...

My comment for those who take themselves, life, or me--too seriously!
Dr. Lecter's eyes focused on her ...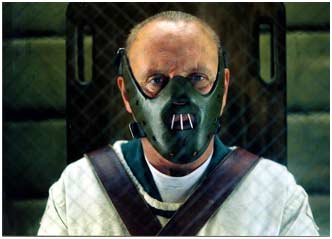 "Did you breast feed her?" "Yes." "Thirsty work, isn't it ...?"
Enter content here