And now for the villians of the story. Dr. Dagon Drexler: "... Father had taught him to appreciate the finer and not-so-finer things of life: deviant tastes that inclined toward cruelty and the ruin of his fellow man, woman and child.
"... His colleagues frequently spoke, although never to his face, of his expressionless eyes, blank as a cataract-filmed eye. Eyes that follow you, track your every move as if the Mona Lisa itself hung before you. Eyes that devour you as they burn with a cold-fire. And as those eyes stared through you--you would see it, deep inside, coiling like a thread of smoke, something moved. " Your basic, traditional mad-scientist-type; He is Outer Head of the the Secret Order--P-17 and master mind of the New World Order.
His understudy, Dr. Felix Ordinaire, loves show tunes, cross dressing on the weekends and fancies himself a poet. He is a high adept of Black Magick, and a bit of sadomasocist. His code-name within the Brotherhood is the "Puppet Master." And mind control is his game. Just your average sociopath, searching for the inner child within himself . Just don't let him near yours! I based him--very loosely--on the true historical father of Absinthe. The Green Muse who creates wormwood delusions of ... well, you get the picture. And to a larger extent on Peter Lorre's character in the "Maltse Falcon." Dressed in his tux, reaking of cheap cologne, and exchanging barbs with Sam Spade. So if you think I'm being politicaly incorrect--you're right! But at least I'm in good company.
Dr. Dagon Drexler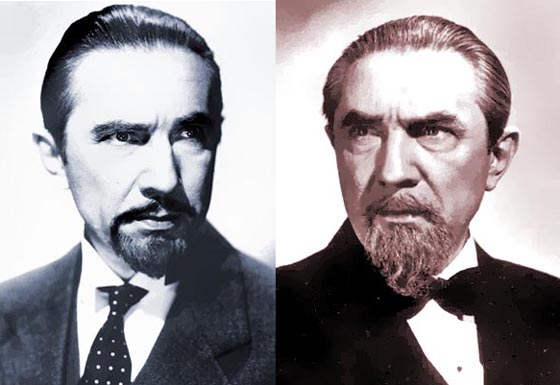 aka Bela
Mossad Agent "Schlomo"
The Gentle Giant!
Here I'll describe the picture above.